I awoke Sunday morning in our king-sized bed at the Rembrandt Hotel in London, where we had been upgraded to an executive suite (sweet!).
The previous night I had spent about 20 minutes trying to figure out how to operate the television. At first it wouldn't turn on when I pushed the power button. When I finally turned it on, I could not change the channels. Then after I had given up and turned it off, it kept turning itself on again.  I never did figure it out.  I had similar problems in Lyme Regis.  I don't know if this is an English television thing or if it's simply me no longer being able to keep up with technological advances.
Anyway, I woke up on Sunday morning and groped around in the dark for my watch.  The glowing tips of the hands showed 10 minutes to 10.  We had over-slept, which meant that church was likely out of the question.  We had planned to go to a Church of England service somewhere in the neighbourhood–in fact, Dixie had booked our hotel precisely because of this. (When we told Aunt Shirley of our plans, she quipped, "So you want a dead experience, do you?" and laughed and laughed.)  I didn't feel too bad; I counted last night's evensong as that week's worship service.  I left Dixie asleep in bed and shuffled to the bathroom.  Moments later Dixie entered in a panic.
"It's 10:50!  We've missed our breakfast!"
I had misread my watch–the hands glow, but the numbers don't. Breakfast was included in the price of the room, but the buffet closed at 10:30.
"Call the front desk and see if it's too late!" shrieked Dixie.  "Tell them we're suffering from jet-lag!"
Dixie didn't really shriek, but the word works well in that sentence, don't you think?  She did, however, tell me to call the front desk.
"Hi, yes.  We overslept. We're still dealing with jet-lag.  Have we missed breakfast?"
"Well, the buffet closes at 10:30, but you can try calling the restaurant."
She put me through to the restaurant.
"Hi, yes.  We overslept. We're still dealing with jet-lag.  Is there any chance of getting breakfast?"
"If you come down right away you might still be able to get some."
We hurriedly dressed and then hurriedly went downstairs and entered the restaurant in a hurry and looked at the guy we talked to on the phone, who waved us through, and hurried past the sign that said, "Restaurant Closed."
The buffet was still out, with all the makings of a full English breakfast: eggs (soft-cooked, sunny side up), baked beans, sausage, back bacon, fried tomatoes, and toast.  AND little packages of Nutella, which–happily–appears to be a breakfast staple in England.
Dixie sat down and tucked in at the wrong table.  The staff started clearing out the buffet as soon as we had sorted out just where we were supposed to sit. We scarfed down breakfast.  I coolly slipped £5 into the hand of the young man who let us in (in retrospect, this was probably unnecessary, but I felt pretty classy doing it).
A quick shower and we burst onto Brompton Road, heading to (instead of church) a place of another sort of worship: Harrod's.  The reason for Harrod's–other than it simply being Harrod's–was that when Dixie asked her brother, who had booked everything for us, what we could bring back for him, he had asked for a tin of tea with the name "Harrod's" on it.  Secondly, one of my missions in England was to locate a set of plain proper teaspoons (not dessert spoons and not souvenir teaspoons), which I hadn't seen anywhere in Canada.  I thought Harrod's would be just the place.
What I didn't realize was that Harrod's is a luxury department store, and teaspoons would cost me £5 each.  I didn't buy teaspoons, but I did buy a couple of other handy tea brewing tools.  They may well have been overpriced, but I didn't see them anywhere else during our stay in England. Plus, I can say, "I got this at Harrod's" to the blank stares of my friends and colleagues.
Harrod's was impressive, and now we can say we've been there, but it wasn't really for us.  So on we walked down Brompton Road.  For some reason I had it in mind that London would be essentially closed down on Sundays, but this wasn't the case.  Everything was open.  We took the underground from Knightsbridge to Green Park and then walked by the Ritz, through Picadilly Circus and on to Trafalgar Square, where we took in the National Gallery.
Up to this point, everything in London had cost and arm and a leg (if not for us, then for Uncle Mike and Aunt Shirley, for which we are grateful), but the National Gallery–which is an institution of some  significance and a building of granduer–was free of charge. (Map of the gallery:  £1, but there's a box to recycle the maps nearby, so Dixie took one from there.  We did leave a donation in the end.)  The gallery was fascinating, though we went only to specific areas: Rembrandt, Van Gogh and other Dutch painters, as well as Michelangelo and Leonardo, to name a few.  On the way, I came across this 16th Century portrait of Bob Ross: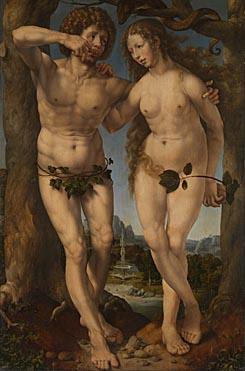 There! Happy little leaves!
After the National Gallery, we wandered up Charing Cross Road, which had been unable to find the night before (London roads are not well labelled).  We stuck our noses in several used bookshops, but purchased nothing, as we'd bought quite a few new books at a good sale price at Waterstone's the day before.  Interestingly, books are cheaper in England than in Canada, but CDs are more expensive. I was a little disappointed in the number of actual used bookshops there (I'm not sure what I had expected), but perhaps we didn't look around enough. The Wikipedia entry for Charing Cross Road mentions some large "venerable" bookstore on some corner, but we somehow missed it.
We had lunch on Charing Cross Road as well.  We sat down in a pub and had a look at the menu at the table.
"You order at the bar," said the girl at the bar.
I ordered a couple of drinks for Dixie and I and sat back down, looking once again at the menu.
"You can't order food in the pub.  You have to go upstairs to the restaurant for that," said the girl.
I found this somewhat curious.  Why put menu's on all the pub's tables if you couldn't order food there?  We went upstairs to a small, empty restaurant.  The waiter seemed annoyed that we ordered only a sandwich to share between the two of us. However, when I pulled out my SLR to take some pictures, he became quite talkative about cameras.  I gave him some sage advice.
After Charing Cross, we took the underground to Euston Station and then caught the train back to Hemel Hampstead.  That night we had a delicious traditional English roast dinner, with Yorkshire pudding (not pudding at all) and all the trimmings.  Afterwards, I was re-introduced to the delights of trifle, which instantly became my favourite dessert ever.  Cake? Jello? (Cake in jello?) Custard? Whipped cream?  Yes please!
Spent the evening drinking tea, playing games, visiting and laughing.
The next day we were to meet up with Toni and Chris.